Atitlan Living is an independent travel guide to Lake Atitlan and greater Guatemala. Here you'll find the most up to date and objective information on accommodations, adventures, cuisine and transportation around Lake Atitlan. You'll also find a classifieds and events section. Keep in touch. Sign up for our monthly newsletter!
Editor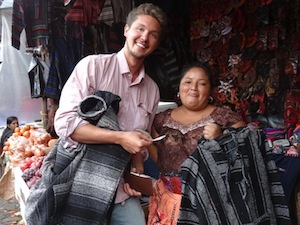 My name is Leif Harum. I'm a travel writer, photographer and independent travel blogger based out of New York City and Panajachel.
When I was 16, I took the road less traveled and ventured out into the world. I traveled through much of Europe and the Middle East without a cent to my name.
After suffering countless hardships and having witnessed the extent of inequity in the world I decided to return to my education.
In 2010 I received a BA in Global Studies from the University Of California Santa Barbara. In that same year I began an MSc program at the United Nations University in Tokyo, Japan.
It wasn't until November 2013 that I finally arrived on Lake Atitlan. I immediately fell in love and decided to make the lake my home base.
After failing to find any solid travel information on Lake Atitlan or much of Guatemala, I decided to start Atitlan Living.
 You can follow me on my main blog The Runaway Guide or connect with me through our Facebook Page. 
Our Team
Eliza D. Stien

I have been living and volunteering in Panajachel for five months, but I've been exploring Latin America ever since I was a kid. Blogging provides a space for me to share information and experiences with others in an honest and engaging way.  Follow my personal blog at All This Luscious Chaos.
To Contact
Join/Like us on our Facebook page (quickest response) Atitlan Living.
Send us an email at Team@AtitlanLiving.com
Or fill out the form below