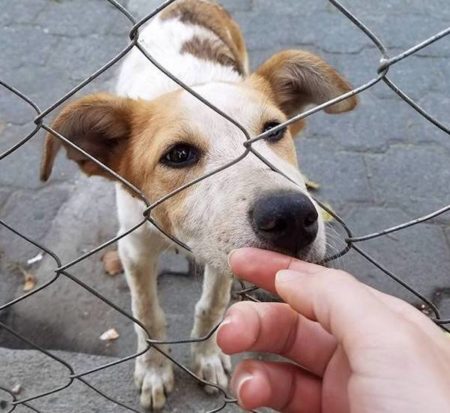 It only takes a few moments after arriving at Lake Atitlán to see streets filled with furry tails and dirty paws. Don't be surprised if you, like myself, find yourself melting at the abundance of cuteness outside every tienda.
When I first came to Lake Atitlán I met Poncho. Poncho is middle-aged, stoic in his face, small in body and shape, but tall in presence. Poncho is a dog. One that I would later feed on most nights when I was lucky enough to entertain his company. One day, Poncho and I decided to take a stroll up to "The Lookout", on Sunset Road between Panajachel and Santa Catarina. For the most part, Poncho led the way and I followed. As we walked back down to the house I heard a man pucker his lips in an effort to call Poncho over. A few short steps later, I heard two men whistle and yell, "Ay! Ven aca!"
Slowly, but surely, the story I had fabricated in my head of Poncho becoming my pet faded, and I began to see the real story. Like many of the other dogs around the Lake, Poncho shares either one of two stories.
He is domesticated. His owner lets him out during the day to roam the streets (a practice that is common in Guatemalan culture). He visits a few familiar faces to snatch a treat and eventually heads home to sleep after sunset.
He is a stray. He gets his water from the Lake and his food from the street. If he's lucky, he's got turf at local restaurants like 'La Palapa' that welcome homeless animals and empathic travelers. He frequents many homes, but belongs to none.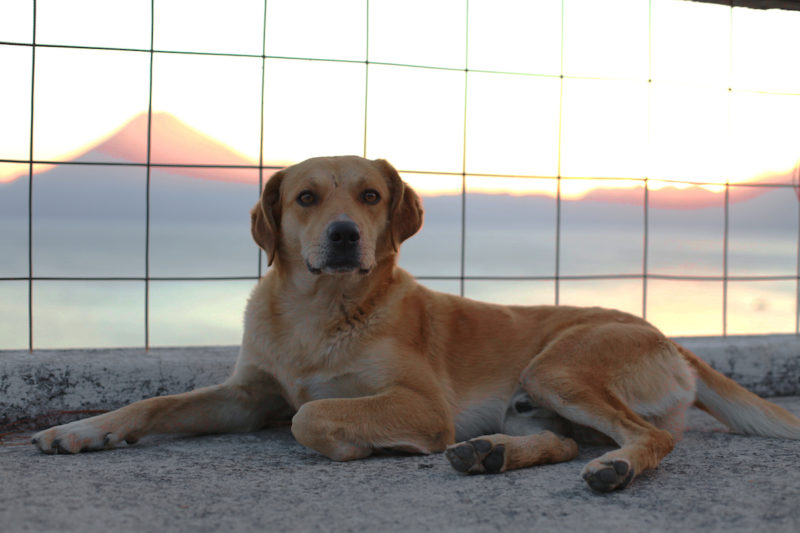 No matter the story, they all share one thing; they are amongst an overpopulation of animals that are at risk of disease and illness. The spread of diseases like Distemper (a viral disease found in dogs that causes fever, coughing, and catarrh) are forgiving to no animal, no matter if he or she has an owner. Given the amount of time spent on the street, both the stray and domesticated animals around the Lake are put at nearly an equal amount of danger. Luckily, there are organizations that aim to help these animals in need.
Mayan Families
Mayan Families is a non-governmental organization who's mission is to "facilitate sustainable development programs in impoverished communities throughout the Lake Atitlán region of rural Guatemala." One of these programs is 'Hope For The Animals'. Aside from rescuing injured and endangered animals, HFTA hosts monthly sterilization clinics. Depending on funding, the cost is affordably low or sometimes free. The organization is also involved in local education programs, insuring the awareness of humane handling and the proper treatment of animals. They have also teamed up with San Carlos University in Guatemala City to provide hands-on training to their veterinary students.
AYUDA
AYUDA is a nonprofit animal welfare program, local to Lake Atitlan. The organization is 100% volunteer based. According to the organization, there are alleged "public poisonings", where locals infect meat and feed it to the stray animals. Their mission is to provide a solution to this problem. Similar to HFTA, AYUDA aids in the prevention of disease by offering professional sterilization and vaccination services for dogs and cats. Some common diseases they have worked against are Rabies, Parvo and Distemper. These clinics are open every Thursday.
Conclusion
Animals around Lake Atitlan like Poncho are so lovable and sweet, we forget they could be in danger of serious diseases, illnesses and even death. Whether you're on a short visit or you're a long-term resident, there is always something you can do. These animals are in need of our help.
For more information on these organizations, you can visit their websites at,
https://www.mayanfamilies.org/page/animals
If you have a story like mine, we would love to hear about it! Feel free to leave your comments below or send us a picture of your favorite Atitlán animal on Instagram @AtitlanLiving with the hashtag #AtitlanPerros