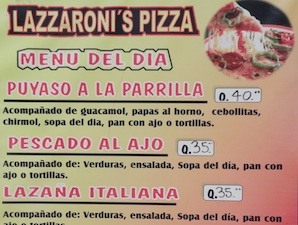 The Broadway of Panajachel, Calle Santandar, is awash with dozens of restaurants. But too many of them charge way too much for mediocre tourist-oriented food. They sell pizza with made with rock hard crust and funky cheese, hamburgers with a patty thinner than a slice of ham, and tacos for ten dollars a plate.
However there are few places that offer excellent food at local prices. In the following guide you will discover the cheapest and most delicious places to eat in Panajachel.
Breakfast Tipico At Lazaronnes
At first glance Lazaronnes looks just like every other tourist oriented restaurant along the strip. But after checking out the menu you'll find prices much more reasonable to Guatemala. Their Breakfast Tipico is only 18Q and includes unlimited coffee or tea, bread or tortillas, scrambled eggs, beans, cheese, platinos, and guacamole. For the price, it's one of the best breakfasts in town. You can find it mid way down Santandar.
Gringas El Pastor at Taqueria Mucho
Taqueria Mucho is a little hole in the wall located right before the San Francisco bridge. You'd never think it by looking at it but they make some of the greatest tacos in town. The Gringas El Pastor goes for just 20Q and includes three medium sized tacos filled with pork mixed with pineapple. You can then choose which of the 4 home made salsas you want to adorn them with. Be sure to compliment them with a bottle of California Pina Colada for 5Q.
Chicken Sandwich at Katan Pe
Katan Pe is another hole in the wall towards the beginning of Santander. Although the sandwiches are small, they are remarkably delicious and only 10Q. The bread and all the ingredients are fresh and you can taste it. It's a great sandwich for a small lunch or as a snack to go.
Conclusion
Nothing is better than eating delicious food for cheap and Panajachel is one of the best towns for it. Although the former three are probably my favorite joints, there are loads more great places around town. For more cheap eats recommendations, check out the Best Street Food In Panajachel.