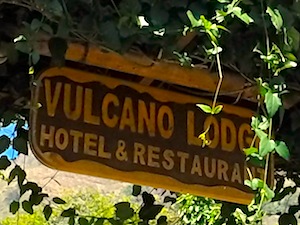 Lake Atitlan is home to dozens of budget and mid range hotels. Most are  cheap and decent but many don't provide the amenities and level of comfort most westerners are accustomed to.
On the other hand, there does exist a few 5 star hotels, but at around 500$/night, it's just not worth it.
However there is one hotel that stands apart from the rest.  It's a humble boutique hotel hidden amidst tropical flowers, cacti, and palms. It's a place to enjoy stunning views of the volcanoes from the comfort of masterfully crafted rooms. It's a haven of tranquility and relaxation. And the hot water is always on tap.
This hotel is Vulcano Lodge located in the small Mayan village of Jaibalito, Lake Atitlan.
Note* As of 2016, the Vulcano Lodge is now called Jabalito Gardens, and can only be booked through AirBnb. If you have never used Airbnb before, you can you the following link to receive 40$ credit towards your first stay, which is the equivalent of 1 free night at Jaibalito Gardens.
Accommodations
All the rooms at Vulcano Lodge have been designed with great attention to detail and comfort in mind. The cream white walls are decorated with unique Mayan tapestries that add warmth to the room. The pine varnished ceilings are high and promote a sense of spaciousness. The overall ambience is one of grandeur, coziness, and relaxation.
In terms of comfort, the cotton linens make it hard to get out of bed. And the high-powered hot water shower bestows a renewed appreciation for the awesomeness that is hot water.
Finally, every room comes with it's own private balcony. From here you can lounge in a hammock and allow your mind to drift under the intoxicating fragrances of the surrounding garden.
But by far the most fantastic aspect of Vulcano Lodge's accommodations are their prices. Rooms start at just 40 USD a night. And the huge suite with grand balcony starts at just 76$.
Location
Vulcano Lodge is quite isolated, but that's what makes it so special. There are no big markets, no crowds, and even no cars. As a result, aside from the laughter of local kids, the chirping of birds, and the morning rooster cries, there's nothing but quiet and pristine air.
You might be wondering, how am I going to get here if there isn't access by cars? Easy. Simply catch a ferry boat "launcha" from either Panajachel or San Pedro. For more info on ferries, check out Transport Around Lake Atitlan.
The Restaurant
*The restuarant kitchen is now open for shared use as of 2016
The restaurant at Vulcano Lodge offers an array of different western and local dishes at a reasonable price. Everything on the menu is made with fresh local produce and it makes a palpable difference. Not only is the food delicious but like a high-end restaurant, the food is presented with a degree of artistry. Even the Nachos got class!
In addition, every night, by reservation, the restaurant offers an exceptional 4 course meal for a set price of 105Q per person. The meal typically begins with a creamy soup with homemade bread followed by a fresh salad. Next comes the main course, which on this particular night was a chicken shish kebab cooked to perfection. Last but not least, a cup of home made ice cream and your choice of tea or coffee. Was it worth 13$? Most definitely.
The Staff
The Vulcano Lodge was founded  14 years ago by a Norwegian man named Terje Maeleand. Today the hotel is owned by another Norwegian gentleman named Gustav Otto Braarud. Although he is young, he is passionate about sharing his love for Lake Atitlan and Jaibalito with his guests.
The two managers, Romel and Perla, are also extremely friendly and helpful. Together, Gustav, Romel, and Perla provide a level of service comparable to any 5 star hotel.
The Verdict
Vulcano Lodge is no Hyatt Regency but that's not what it's meant to be. It's charming, humble, and quiet. It's the kind of hotel that  you dream of honeymooning at. And the best part is, a week long stay won't put you or your parents into debilitating debt. If you're coming to Lake Atitlan, Vulcano lodge is an experience not to be missed.