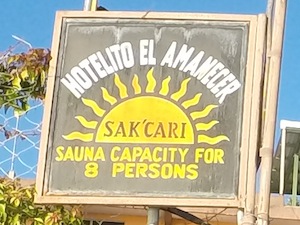 One of the reasons why I love Guatemala is the value you get for your money. Lake side rooms and quality meals out cost just a fraction of what they would in the US or Europe. Your money simply buys you more and in some cases a lot more.
Hotel Sak'cari in San Pedro is a great example of a high quality hotel at a great price. Although you might not consider it "luxury" by western standards, for San Pedro, Guatemala, it's pretty darn nice.
The rooms are spacious, very clean and comfortable. The lush and well manicured tropical garden provides the perfect place to read or write(writing to you now from the garden hammock). The pool and sundeck is great for catching rays. The kayaks allow you to explore the lake from sunrise till sunset. And you get all of this for just 36$ a night.
If you're looking for lake side tranquility, quite and comfort for a reasonable price, Hotel Sakcari is the place.
Accommodations
Compared to a 5 star Hilton, you might not be too impressed. The rooms are relatively plain, the bathroom caulking isn't perfect, and the blankets are wool and a bit itchy. But then again, this is Guatemala and you're not paying 200$ a night.
On the other hand, the rooms are so clean that even the most critical Japanese  businessman would be impressed. The linens are relatively soft, and the bed is firm but not too firm. And unlike many other hotels, whose walls are so thin you can hear the farts of adjacent guests, these walls are a bit thicker, which means quiet and a better nights rest.
Other appealing aspects include the large single pane window that gives every room uninhibited views of the lake. The led reading lights are easy on the eyes and good for the environment. Finally, you won't have to worry about being electrocuted in the shower because this hotel has hot and cold water provided by a proper hot water heater.
But if I were the owner there are a few minor changes I would implement. 1) Packets of shampoo that don't break your teeth when you try to open them. 2) A large painting to warm up the wall. 3) A full body mirror. 4) Complimentary soap to wash your hands.
Activities
Aside from lounging in the hammocks, the hotel has a great little above ground pool to splash around in. They also offer 4 ocean kayaks that you're able to use whenever you want. It's a great way to see San Pedro from a new perspective, and get some exercise. Kayaking at 7am was definitely one of the highlights of my stay, check out the video below.
Location
Hotel Sak'cari is located about 30 meters off the main street. It's far enough away that you feel as though you're miles from town, and close enough that you can easily get to most restaurants in minutes. The Blue Parrot is literally just steps away and has the best American breakfast in all of Guatemala.
More, the lush garden that surrounds the hotel and a lack of bars or night clubs translates to much needed peace and quiet.
The Staff
The reception staff consists of two friendly Americans who are fluent in both English and Spanish. The Mayan maid and gardener are also very friendly and maintain the hotel to perfection.
Longterm Options
Hotel Sak'cari offers 4 modern apartment rentals that rent for 825$/month. Apartments include a full kitchen and bathroom. The price is on the high side and you could definitely find cheaper, but if you want lake side access and the security and service of a hotel, it could be an option.
Conclusion
Hotel Sak'cari isn't luxury by western standards but it is relatively luxury by Guatemalan standards. When it comes down to it, it's all about a comfortable bed, a hot shower, a clean room, and a view of Lake Atitlan, and Hotel Sak'cari provides on all counts. So if you're looking for something more upscale and at decent great price, this is a very good option.