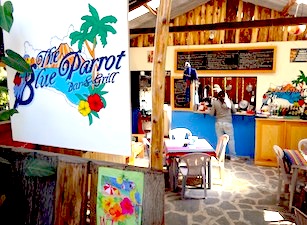 In those few blissful moments right before sleep last night, I suddenly had an intense craving for breakfast. I couldn't wait for tomorrow to come. But since I wasn't particularly hungry, I didn't understand why.
Today I realize that this wasn't mere hunger pangs but rather a premonition of the future. A future filled with hash browns, biscuits, gravy and eggs, an incredible American style breakfast in the heart of San Pedro, Guatemala.
This breakfast is at Blue Parrot's Bar & Grill.
The chefs are American and professional, the food is authentic, the atmosphere is quiet and cozy, the prices are right, and you can get you're breakfast fix all day long.
Top 3 Most Popular Breakfasts
1) Biscuits & Gravy 25Q
If you love biscuits and gravy or even if you don't, you still got to try this. There's nothing like hot homemade biscuits drenched in glorious gravy. Throw two eggs on top for an extra 5 Q and you've got enough energy for at least two days.
2) 3 Egg Omelet 25Q
The three egg omlet comes anyway you like and is complimented by hashbrowns and a biscuit or toast. You can choose from black olives, green olives, onions, tomatoes, mushrooms, jalapeno, avocado, red peppers, and cheese.
3) Breakfast Sandwich 20Q
A classic American breakfast sandwich with cheese, egg and your choice of real bacon, ham, or sausage.
Top 3 Most Popular Lunch Specials
Blue Parrot doesn't just do Breakfast but they also make some luscious lunch sandwiches and subs.
1) Reuben 40Q
The Reuben is made with fresh hot pastrami, real Swiss cheese, home made sauer kraut and thousand island dressing. It's a Reuben rivaled by only the best of New York's Delis.
2) Meatball Sub 35Q
Homemade meatballs and marinara sauce topped with parmesan cheese on a sub. A classic Italian American sandwich done right.
3) Philly Cheese Steak 40Q
Thin slices of prime quality steak covered in cheese, peppers and onions on a sub. No comment needed.
The Owners
David, Mark, and Chris are three brothers from Maine. With backgrounds in business and as executive chefs, they founded Blue Parrots Bar & Grill in 2013. Their mission, to provide excellent American food that Americans like myself crave when we're abroad.
Although they opened recently, they've been active around San Pedro for the last 6 years. Not only do they make their own hot sauces and sauerkraut but they also run Smokin Joe's BBQ, big Southern style BBQ that sets up in Panajchel on Saturdays and San Pedro on Sundays.
The Verdict
If you've craving American food, there's no place more authentic and delicious around Lake Atitlan than Blue Parrots and Smokin Joe's BBQ. They offer all the best American born dishes and at a price that's hard to beat. Definitely a must eat if you're coming to San Pedro La Laguna, Guatemala.