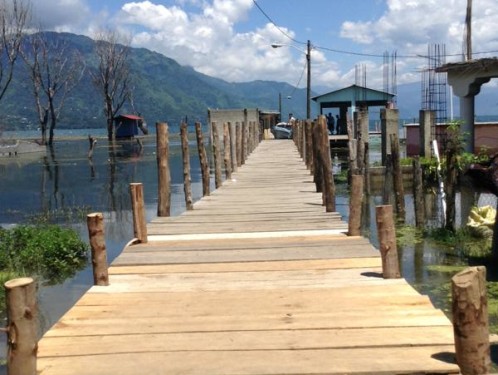 One of the the many draws to Lake Atitlan are the dozens of nonprofits and international schools around the lake. The large indigenous population in the surrounding communities, along with the beautiful lakeside setting, makes Atitlan the ideal location for nonprofits and the young volunteers they rely on.
I spent six months living and volunteering for a nonprofit in Panajachel called Starfish One by One, an organization the provides scholarships, tutoring, and mentorship for indigenous girls with the vision that these girls will grow to be leaders in their communities. Because I was the sole English-speaker in the office, my work revolved around donor communications and translating when we had visitors. In short, living and volunteering in Panajachel was the best thing I've done with my life so far. Here's why:
1. Purpose, People & Perspective
Panajachel is filled with other young travelers volunteering or working for minimum wage. I've always believed that it takes a certain type of person to venture in this direction with their life – a visionary, a risk-taker, someone with an open mind and love for the world. Consequently, everyone I met in Panajachel I felt an immediate attraction to. These were people who taught me about what it means to be a better person and where my place in this world might be.
2. An Awesome Lake With Lots To Do
Wherever you find yourself on the lake, you are only a short boat-ride away from adventures in other towns. Each town is unique in its culture and atmosphere, and whether you spend a day or a weekend San Pedro, San Marcos, or Jaibalito, you return home re-energized and rejuvenated to go back to work.
3. It's Cheap!
You can survive as a volunteer or minimum wage worker in Atitlan because you can actually afford to buy food and housing. On average, a roll of bread costs 5 cents, and bottle of water is 30 cents, a cheap meal out is 2 dollars, and you can usually find an apartment for $200/month.
4. Easy To Explore Greater Guatemala & Central America
Guatemala is a small country, but it is bursting with adventures. If you work five day weeks in Atitlan, you can get anywhere in the country on an overnight bus or short (and affordable) plane ride and spend the weekend. Guatemala is famous for its ruins, beaches, volcanoes, ancient cities, markets, rivers, and more. While I was volunteering in Panajachel, I traveled almost every weekend and still didn't see everything that I wanted to. Looks like I'll just have to go back…
5. Friendly Locals
Towns around the lake are small, allowing for tight-knit communities to form. Guatemalans are notoriously friendly, and the people around the lake, because they are used to seeing many travelers, accept you as their own. I can guarantee that if you spend three weeks in a town in Atitlan, you will have become friends with the lady selling bananas at the market and at least two street vendors.
If you're  interested in volunteering in Guatemala, definitely consider Lake Atitlan. You might find yourself coming back time and time again…just like me.