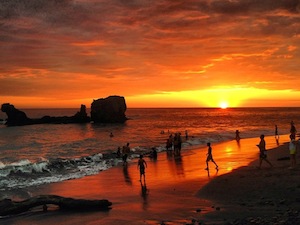 El Tunco epitomizes the best of Central American beach towns. It's exceptionally more fun than Montericco and other Guatemalan coastal beach towns, and it's not too much further away.
It's the spot to hit if you're looking to surf, party, and relax pool side. It's also a major destination on the "Gringo Trail," meaning there are always plenty of backpackers to hang out with.
However, a lot of travelers tend to skip El Tunco in favor of heading north to Honduras. But if you're already in or around Lake Atitlan or Antigua, Guatemala, you can get a shuttle to El Tunco for just 25$ (5 hours).
So if you do decide on checking out El Tunco, below is a list of some great places to stay and a few awesome things to do.
Where To Stay In El Tunco
Papaya Lodge For Parties
Every time I arrive at Papaya Lodge, which is usually on weekends, there's always a party going on. Australians, Brits, Canadians and Americans make up the majority, but there's always a few Finns there as well. They're often sprawled out around the pool with 40's in their hands. For a full review check out, El Salvadorian Surf Retreat.
Tunco Lodge For Tranquility
Tunco Lodge is Ideal if you need a break from the party scene. They have a great big pool, a ping pong table, and pool table. There are many different accommodation options from 10$/night dorms to 40$/night privates. It's just around the corner from Papaya lodge but with half the noise.
Hotel La Guitara For Longterm
This hotel is probably one of the nicest and cheapest places for longer term stays. For just 300$/month, you can get you're own little bungalow just steps away from main street and the beach. They also have a great pool.
Things To Do In El Tunco
Go Surfing
Surfing El Tunco is known for having a pretty sweet right break. Rides generally last 5 to 10 seconds, and winter swells average 4 to 8 feet. You can rent just about any kind of board for around 10$/day.
Check Out The Caves
The caves of El Tunco interconnect for at least 400 meters down the shore. Small unassuming entrances giveaway to huge inverted amphitheaters. To get there, simply walk left down the beach for 10 minutes. Just make sure to go in the morning at low tide.
Cliff Jump
About a 45 minute chicken bus out of town is a pretty cool natural water slide, water fall, and cliff jump. It's a bit of a hike into the ravine but it's definitely a cool experience. Try and get a couple of people together from the hostel to go with you.
Party Hard
There are a a ton of great clubs all within a few hundred feet from each other. Some have live music every night and others have some pretty great DJ's. Although it's no Ibiza, you're gonna have fun.
Conclusion
El Tunco is one of those beach side towns you won't forget. It's developed enough to support a hopping night life, but not overly developed to where it's lost its charm. I've been there three times so far and I've always had a great time. For a glimpse of El Tunco check out this video below.