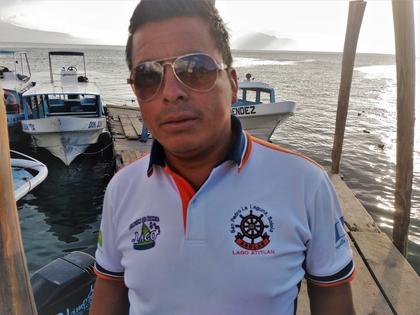 The main vehicle for getting from village to village on Lake Atitlan is a boat, better known as a lancha. Getting around Lake Atitlan is not complicated, but it can take a few tries before you feel comfortable. Hopefully my experience will make yours a little bit easier.
It is to your advantage to explore the Lake Atitlan region without a car. Walking is the only way to see most of the off-the-beaten-path neighborhoods and alleyways, and the villages are so small that you can walk across any of them in under 20 minutes. If you arrive in Panajachel with a vehicle, it may be worthwhile to park it at one of several long-term lots throughout the village.
Lanchas are the water taxis that ferry people from town to town on Lake Atitlan. They are the fastest way to get to every other town from Panajachel. The road through Solola to Panajachel is the main entry by motor vehicle from Antigua, Guatemala City, and Mexico.
Panajachel Is The Gateway To Lake Atitlan
The transport systems around Lake Atitlan are quite reliable. You'll probably make your way to Lake Atitlan through Panajachel because the road to Pana is better maintained for shuttles and chicken buses. There are roads to San Antonio Palopo, Santiago Atitlan, San Pedro La Laguna, and San Marcos La Laguna, but they are in dire need of repair, and the going is very slow.
Once in Pana, you may hail a Tuk Tuk (mototaxi) for destinations in town (Q5), or a pickup truck to go to Santa Catarina Palapo and San Antonio Palapo. But if your destination is a village across the Lake, you'll likely head to one of the public embarcaderos, (ferry docks) to catch a lancha.
Getting To The Dock
There are two embarcaderos in Panajachel. The most central embarcadero is located at the end of Calle del Embarcadero, which can be accessed via Calle Principal. This embarcadero services routes to Santa Cruz/San Marcos/San Pedro/Jaibalito/Tzununa. The other embarcadero is located at the end of Calle Del Rio near the mouth of the Panajachel River. This embarcadero services routes to Santiago Atitlan, San Antonio Palapo, Santa Catarina Palapo, and San Lucas Tolimán. If your destination is San Pedro La Laguna, then you'll want to catch a lancha from the central embarcadero, and you might tell a Tuk Tuk driver, "Voy a embarcadero a San Pedro (I'm going to the ferry dock to San Pedro)."
Public Water Taxi Costs Around Lake Atitlan
Getting from Panajachel to Santa Cruz La Laguna: Q10
Getting from Panajachel to Jaibalito: Q10
Getting from Panajachel to Tzununa: Q15
Getting from Panajachel to San Marcos La Laguna: Q25
Getting from Panajachel to San Pedro: Q25
Getting from Panajachel to Santiago Atitlan: Q25
Getting from San Marcos to Santa Cruz: Q10
Getting from San Pedro to Santiago: Q10
Getting from San Pedro to Santa Cruz: Q20
Getting from San Pedro to San Marcos: Q10
Tourists will always be charged more than locals, that is the way it goes, and you are not getting ripped-off. You will see locals getting charged half price for transport; that's normal and fair; they ride everyday and you're just passing through.

Timing & Lancha Schedules
Boat service runs between 6:30am and 7:30pm. Two lauchas depart San Pedro and Panajachel every 30ish mins. One will be a direct boat, and the other will stop in each village along the North shore between the two villages (Santa Cruz/San Marcos/San Pedro/Jaibalito/Tzununa). The laucha captains wait until they've nearly hit capacity before departing. So, you may end up sitting in a laucha for up to 25 mins before the boat actually departs.
Captains
Lancha captains can seem quite aggressive at the embarcadero in Panajachel and San Pedro. And unless the boat is full and leaving the dock at that moment, you have plenty of time to figure out which boat to get on. The captains and their assistants will convey an, often false, sense of urgency to get your body into their boat. Their aggressive urgency makes it seem complicated at first, but ultimately it's a very simple affair.
Public & Private Lanchas
There are two types of lanchas that service the public docks, Public and Private. The captains wearing the white polo shirts with orange lines on the shoulders and sleeves, branded with a ship's wheel logo, will have the most consistent pricing. These captains are part of an association of captains that operate the Public lanchas on Lake Atitlan. It is safe to ride the nonunion boats too, but the prices are less consistent, and clear communication is necessary for a smooth transaction. Another option is hire a private captain/boat for several hours or a day. Prices may vary for private charters, but I was able to hire a private boat from Panajachel to San Antonio Palapo for 4 people, lasting 3 hours, for Q400.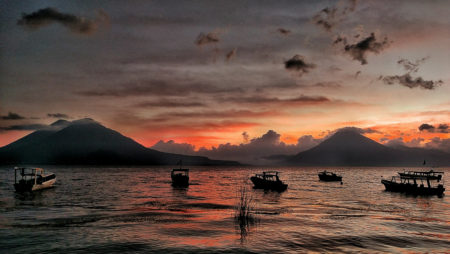 The Experience
I love riding the lanchas. I love the smell of the fuel. I love skimming across the lake from Pana to San Marcos in the morning when the surface is flat and the wind is calm. And I also love the bumpy ride back from San Pedro on the choppy afternoon waters when the wind kicks up and the sun starts to set. I love the scramble by all passengers within reach to tie down a window flap after the first wave of chilly lake water breaches the gunnel and splashes everyone within reach. I love sipping a limonada while watching the sun set behind Jaibalito from a high perch at the Cafe Sabor Cruceno in Santa Cruz La Laguna, walking quickly down the mountain to the public dock, catching a lancha filled with local evening commuters from San Pedro and San Marcos, and then watching the sunset again from the embarcadero in Panajachel. I love watching the 13-year-old lancha captain's apprentice rearranging the boats at the docks, practicing intricate piloting maneuvers, and occasionally bumping a boat of patiently waiting commuters and anxious first time backpackers.