OverviewPreparationDestinationsAccommodationGetting HereGetting around Do & SeeBudget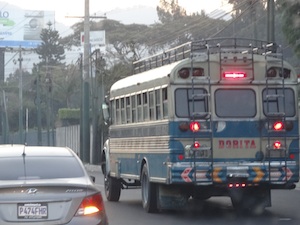 One of the main draws of Lake Atitlan is it's isolation. The air is pristine and without pollution. The the Mayan culture, protected by the highlands of Guatemala, continues to thrive.
Yet despite this isolation, Lake Atitlan is relatively easy and not to mention cheap to travel to.
---
Finding A Cheap Flight To Guatemala
In order to get to Lake Aitlan you need to find the cheapest flight to San Salvador, El Salvador, or Guatemala City, Guatemala. The cheapest flights can be found during the low season; September, October, November and February, March, April. Click hereto find out the Best Time To Visit Lake Atitlan.
From the United States
If you're living in North America, you're cheapest option is to check out SpiritAir.com. They consistently offer cheap flights through Ft. Lauderdale to Central America. However, be sure to check out Kiwi.com as it has one of the best flight search engines, and you may be able to find a cheaper flight there.
From Europe & The World
The cheapest gateway to Central America is through Ft. Lauderdale. Check out NorwegianAir.com for cheap flights to from Europe to Ft. Lauderdale. Now go to SpiritAir.com for flights onward to Central America.
Guatemala City Airport To Lake Atitlan
Option 1: Take A Shuttle Bus – Price 25$
Shuttles leave regularly from Guatemala City Airport to Panajachel. However most shuttles are not direct and do stop over in Antigua. This makes the total travel time to the lake around 4 1/2 hours.
Shuttle Service – 06:00am – Guatemala City/Airport to Panajachel $25 p/p
Shuttle Service – 11:00am – Guatemala City/Airport to Panajachel $25 p/p
Shuttle Service – 02:30pm – Guatemala City/Airport to Panajachel $25 p/p
(this service makes a stop in Antigua and then continues to Panajachel, travel time 4-4.5hrs)
Direct Shuttle Service – 2:30pm – Guatemala City/Airport to Panajachel $35p/p (min 3pax)
Private Service – can be scheduled at any time according to your needs, please specify time and number of persons for details
Option 2: Hire A Private Taxi – Price 120$ – 130$
There are plenty of taxis available to take you directly to Panajachel on Lake Atitlan. They cost between 120$ – 130$ and take around 3 hours. You can either arrange one yourself outside of the terminal or book one through an agency at the airport.
If you're looking for a driver you can trust and one who speaks perfect English, we highly recommend our friend JB Olano. He's a classical pianist by night and driver by day. He also has a great Airbnb in Antigua where he and his wife perform from their garage on the weekends. The best way to reach him is by WhatsApp at +50256080968
Option 3: Hire A Helicopter – Price 1000$
However if you've got the money, you can always take a helicopter direct from Guatemala City Airport to Lake Atitlan for between 1,000-1,400$.
From Antigua To Lake Atitlan
If you're coming from Antigua, it's extremely easy to get a shuttle bus to Lake Atitlan. You could either book a shuttle through your hotel or get a ticket at any travel agency. The price is advertised as 12$/85Q  but you can usually haggle the price down to 10$/70Q .
Shuttle – 05:30am – Antigua to Panajachel $12 p/p
Shuttle – 08:00am – Antigua to Panajachel $12 p/p
Shuttle – 12:30pm – Antigua to Panajachel $12 p/p
Shuttle – 04:00pm – Antigua to Panajachel $12 p/p
Shuttle Thu and Sunday – 7:00am – Antigua >> Chichicastenango Market Day  9:00am>> to Panajachel 02:00pm $24 p/p
Decide Which Town You Want To Visit
There are 5 main towns that lie along the banks of Lake Atitlan. Each town offers a different experience and view of the volcanoes. They are Panajachel, Santa Cruz, Jaibalito, San Marcos, and San Pedro. For a quick overview of the towns, check out The Towns Of Lake Atitlan. For information on ways to get to these towns, check out Transportation Around Lake Atitlan.
Conclusion
Flights are relatively cheap and shuttles are quick and comfortable. Although Lake Atitlan isn't the easiest place to get to, when you finally arrive, it's that much sweeter.