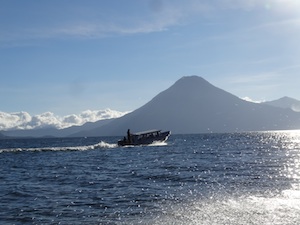 Lake Atitlan is cheap and relatively easy to get around. There are 4 main modes of public transport, boat, pickup truck, chicken bus or Tuk Tuk.
Additionally, if you want to explore new towns and fancy a bit of freedom, you can always rent a motorcycle.
However, since it's not uncommon to get charged tourist prices, which can be more than double, it's a good idea to know the local price.
By Boat
The main mode of transportation on Lake Atitlan is via boat. Due to the lack of roads along the north of the lake, nearly all towns are connected by boat. Boat's cost between 10 and 25 Q depending on how far you're going. Be sure to get the collectivo because a private boat will cost you a few hundred Q. The smoothest and driest ride will be in the morning before afternoon winds roll in.
Here's an idea of what you should expect to pay:
Panajachel >> Santa Cruz 15Q Panajachel>>San Marcos 25Q Panajachel >>San Pedro 30Q
By Pick Up Truck
Pickup truck collectivos connect Panajachel and the eastern town of Santa Catarina. They are the cheapest way to travel short distances by land. Most pickup trucks make their routes in the morning and afternoon, but a few can still be found mid day. To get one, simply wave one down or wait at the bus stop. In Panajachel this is at the Dispenseria Familia (Super Market).
By Tuk Tuk
Guatemala loves their tuk tuks and every town around the lake is full of them. They are quick and convenient but relatively pricey. You can generally get one anywhere within a downtown district for 5Q a person. Note that prices double at night and also the moment you enter a new part of town.
By Chicken Bus
The Chicken Bus or recycled US school bus is the cheapest way to travel longer distances in Guatemala. For just 2.5Q you can take a 25 minute trip from Panajachel to Solola. Busses depart at the junction of Calle Santander and Calle Principal.
Motocycle Rental
There's no better way to experience Lake Atitlan by motorcycle. Rentals go for around 250-400Q a day depending of the engine size. For a better idea, check out Motorcycling Lake Atitlan.
Conclusion
Not only is getting around lake Atitlan cheap but it can also be a lot of fun. There's no better way to see the country side than by hanging off the back of an overcrowded pick up truck. And there's no better way to experience the lake than by rocketing across it in a rickety launcha. As the Aussies say, get on it!