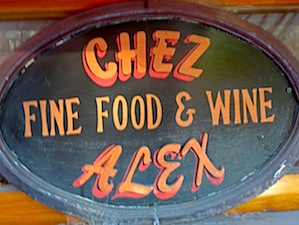 As one of the biggest towns on Lake Atitlan, Panajachel is home to a wide variety of restaurants. If you're looking for Japanese, Hana Sushi is hard to beat. If you're craving pizza, try Ulsan. But if you fancy a true dining experience at a 5 star European restaurant, there's only one place to go.
This restaurant is Chez Alex.
The Experience
The moment you leave the bustle of Calle Santander and enter through the varnished cyprus doors of Chez Alex, you are transported into another world. The change is so drastic that you might actually suffer from minor culture shock.
The tables are beautifully set with pressed white cloth, the napkins rise aesthetically from pristine white plates, the cutlery is set with precision, and the peach cream walls reflect an ambiance of warmth and comfort. It's so European in style, you might temporarily believe you're at a fine restaurant in the heart of Paris.
The Food
Chez Alex is largely considered to be not only the finest restaurant around Lake Atitlan, but also one of the top restaurants in all of Guatemala. But it's not just the atmosphere and service that makes Chez Alex so celebrated.
From the appetizers to the lunch and dinner specials, to the desserts and wines, Chex Alex offers an exceptional menu.
Starter Salad & Garlic Bread
The salad consists of crispy lettuce, sprouts, walnuts and olives, with a light balsamic and mustard dressing. Although the salad is refreshing, it's the creamy garlic butter and fresh bread that really starts the meal off right.
Lunch
On this particular day, the lunch special was a succulent shrimp curry dish served with rice, sautéed carrots and zucchini. The shrimp tasted fresh and the butter based light curry sauté was salivating. At Chez Alex lunch starts at 12 but everything on the menu is available for order.
For a better idea of the menu, here's a short rundown of their most popular lunch specials and prices.
1) Beef Tenderloin with capers…68Q
2) Trout stuffed with Spanish Serrano, ham, and almonds…115Q
3) BBQ'ed Texas Short Ribs…149Q
Dinner
Chez Alex offers everything from Fish Tilapia to Prime Ribeye. In fact, it's only restaurant around the lake that offers Ribeye at all. Whichever main course you decide on, you won't be disappointed. The meat is cooked to perfection, the marinades and sauces compliment the meat without overpowering it's flavor, and the vegetables are succulently sautéed and served with artistry. Everything is of a prime cut and fresh, and you can certainly taste it. Dinner begins at 6 pm.
Wines
Chez Alex offers a wide selection of quality wine from nearly every notable wine-producing region in the world. Every wine was personally chosen to compliment each dish on the menu.
The History
Chez Alex was established nearly 20 years ago. Today, an amiable Norwegian named Terje owns the restaurant. Like all Norwegians, Terje considers the dining table to be the center of family and social life. As a result, he is passionate about creating a most enjoyable dining experience. This is evident from the attentive service and relaxing atmosphere to the delicious food.
Primavera Hotel
The restaurant is located within Hotel Primavera, one of Panajachel's highest rated hotels. The hotel is designed to a high European standard. Rooms are luxurious in their simplicity and comfort. And when you're in the mood for good food, Chez Alex is just steps away. For a full review of Hotel Primavera, check out  "Affordable Luxury In The Heart Of Panajachel."
The Verdict
Chez Alex is with out question the best overall dining experience on Lake Atitlan. From the atmosphere to the food, it just doesn't get any better. An evening at Chez Alex reminds one just how wonderful it is to sit down for a proper meal with good friends and family.