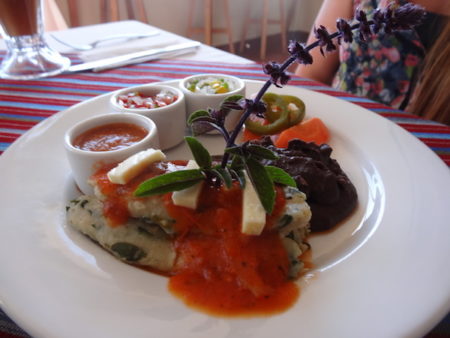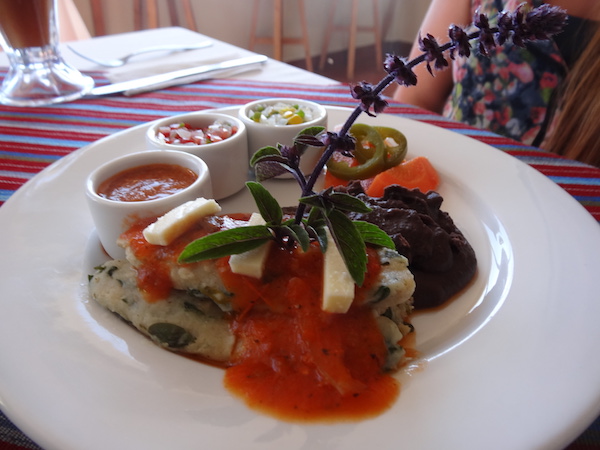 Finally, the post you've been waiting for…FOOD!
No matter who you are or where you come from, you're going to find a taste that you'll love around the lake .
My hope is to make your eating experiences as pleasurable as possible by providing you with a list of my absolute favorite restaurants around the lake – whatever your budget may be.
---
High-End (90Q-180Q / $12-$25)
Lake Atitlan attracts tourists from all over the world, including wealthy Guatemalans from the city. This means that it is full of delicious international and Guatemalan typical restaurants geared towards tourist looking for high quality meals and can afford to pay the cost.
1. Chez Alex, Panajachel: This restaurant and hotel sits at the top of Calle Santander. The restaurant serves a variety of Guatemalan typical meals along with a handful of American dishes such as steak and salads. Read the full review, Chez Alex: 5 Star Dining In Panajachel.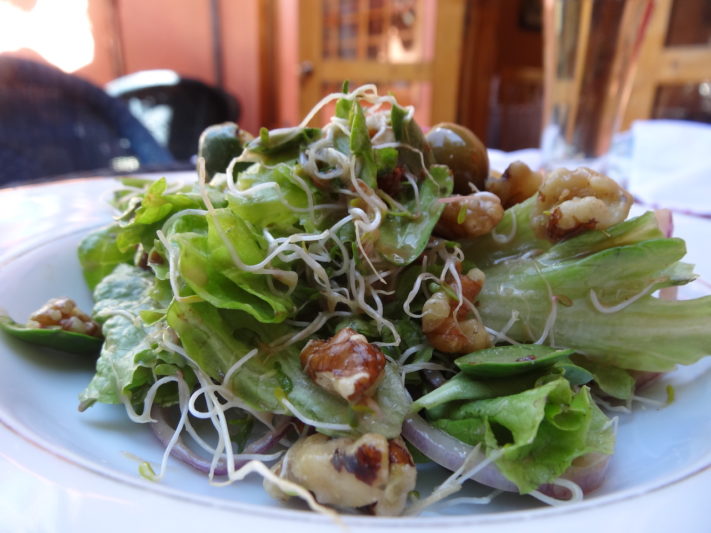 2. Dos Mundos Hotel, Panajachel: Located at the bottom of Called Santander, the restaurant at Dos Mundos has a deliscious variety of Italian plates, ranging from pasta to meat to seafood.
3. Hana Restaurant, Panajachel: Hana is a sushi restaurant located in the Casa Cakchiquel. It has a variety of (cooked) sushi along with tempura, soup, and other delicious vegetable plates. See here for their full menu, http://restaurantehana.com/

Mid-Range (40Q-85Q / $5-$10)
The moderately priced restaurants are my go-to for a dinner out. There is a much larger selection of these in many towns around the lake. Below are our top picks with delectable meals for between 5-10 bucks:
1. Zoola Hostel, San Pedro: The Zoola Hostel is famous for its laid-back and fun-loving environment, along with incredible Middle Eastern dishes. Relax on pillows on the floor while enjoying a bowl of hummus and some shakshouka with freshly baked pita.
2. Cafe Fe, San Marcos: This cute little restaurant sits just a few hundred feet up from the San Marcos dock. It is run by an Englishman who makes some of the most delicious Thai and Indian curries around. 1 garlic butter Naan is enough for two!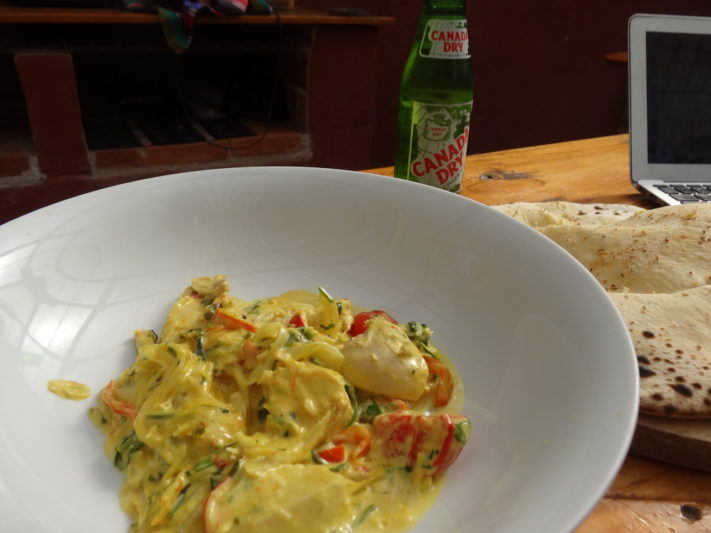 3. Blind Lemon, San Marcos: Blind Lemon has a large selection of American favorites, including burgers, salads, and pastas. It has a warm atmosphere, and while sitting at your candle-lit table surrounded by artwork on the walls, you will feel like you should be paying a lot more than you actually are.
4. Deli Llama de Fuego, Panajachel: The Deli is a top choice for salads, sandwiches, and soups in Panajachel. It has two locations on Calle Santander, one towards the middle of the street and one at the bottom by the lake.
5. Cafe Frances, Panajachel: Cafe Frances is located at the bottom of Calle Santander. It has incredible coffee and a huge selection of crepes that will blow your mind!
6. Blue Parrot, San Pedro: The blue Parrot is owned by 3 brothers from Maine, and they offer some of the best American food on the lake. It truly is worth a visit. Read the full review.
7. Mister Jon's, Panajachel: Owned by a Californian, Mister Jon's has the atmosphere of a typical American diner. It's the place to satiate your hamburger, pancake, chicken sandwich, bacon maple donut, and egg benedict cravings to name a few. Along with Blue Parrot, Mister Jon's stands a tier above when it comes to American food. Check out his full menu here, http://www.mister-jon.com/
8. Café Sabor Cruceño, Santa Cruz: If you're looking for gourmet Maya food, this is the place. This culinary school / cafe offers traditional Maya food at an incredible price. It also offers stunning views of the lake from it's new third floor dinning room. Definitely worth a visit!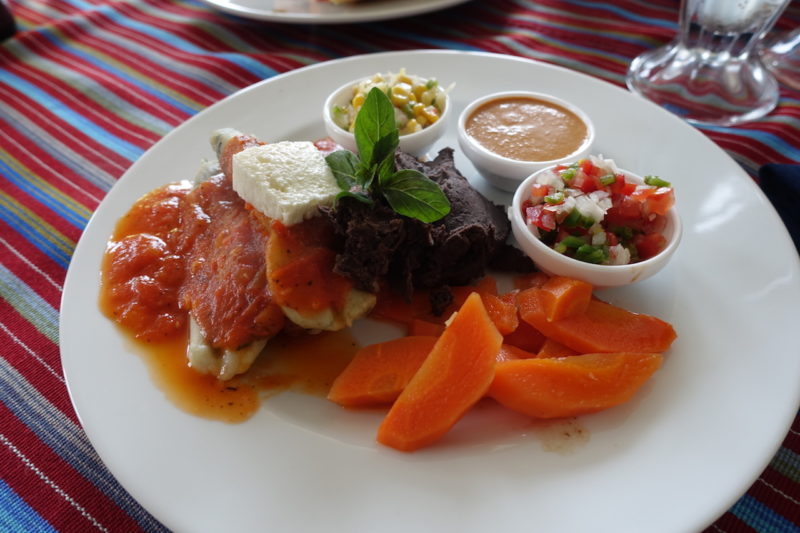 Budget (15Q-35Q / $2-$4)
Traveling on a budget? Lake Atitlan has got you covered! Some of my favorite restaurants around the lake are less than $5 – they're sometimes just a little bit more difficult to find. Good thing you've got me to tell you about them!
1. Pupuseria, Panajachel: The Pupuseria sits at the top of Calle Santanderl. If you don't know what a pupusa is…go and eat one here. If you like tortillas stuffed with cheese, chicken, spinach, and more, this is the place for you! There's also a new Papusa place right across the bridge in Jucanya.
3. Taqueria, Panajachel: This bright pink building is located in the center of Calle Santander. You can get a plate of three tacos for 15Q-25Q. My personal favorite is the vegetarian eggplant tacos – I don't know how they season those babies, but they got something right!
4. Pollo y Papas, Panajachel: This might not be your healthiest option around the lake, but boy is it delicious. You'll see Pollo y Papas stands all over Panajachel – some are better than others – try the stands on the lake front on the weekends.
So you're broke, eh? (3Q-10Q / $0.40-$1.30)
Then this list of street stands is for you! You might need a more seasoned stomach, but if you're feeling adventurous, I have had nothing but delicious experiences at these little places.
1. 3x10Q Tacos, Panajachel: These green taco stands are scattered up and down Calle Santander. It's exactly what it sounds like: three tacos of your choice for 10Q.
2. The women with baskets who come out at night, all over Atitlan. You'll know when you see them. They set out stools and serve up hot tostadas, tortas, arroz con leche, and taquitos. One of the above usually costs 2Q-3Q, and you can have a full, happy belly before you've broken that 10Q bill in your back pocket. The best part? You meet new friends while sitting around a shared table stacked with food. This is my #1 favorite dinner anywhere in Guatemala.
3. Any food stand that only comes out after 8:00 pm, all over Atitlan. This is the popular option for locals, so meals are always affordable and delicious. Mothers and fathers of households bring their kitchens and dining rooms to the streets and cook right in front of you. You can find meat, chicken, vegetables, soup, and rice at these stands – and have a complete meal for less than 10Q. Definitely check out the new burger lady at the corner of Calle Santander and Caller Principal for a brilliant 16Q burger.
Conclusion
I bet you didn't know what Atitlan had in store for you, huh? No matter which of these restaurants/food stands you visit, I can guarantee that you will have a positive experience. And, when it comes to food around the lake, you don't always necessarily get what you pay for. Some of the best meals I've had in Guatemala have also been the cheapest.