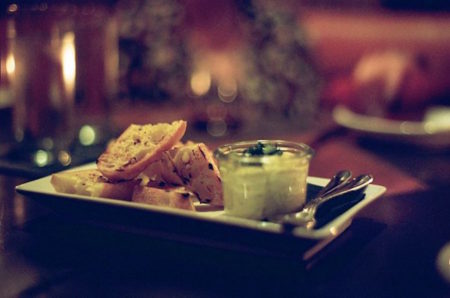 I first started coming to San Marcos La Laguna several years ago for weekend getaways when I was living in Guatemala City. Now, I live here. (Technically in Pasajcap, a residential area halfway between San Marcos and Tzununa.) While the town can be a little over-the-top during the high season (from December to April) with its annual influx of nomadic travelers, there are several charming eateries that make this village worth a visit. My personal favorites, in no particular order:
Moonfish Cafe
Our standard go-to when we've run out of groceries, Moonfish offers simple, wholesome, homemade, locally-sourced foods. The menu is brief and hasn't changed in years. Try a burrito or sandwich (on their fresh baked tortillas or bread), nachos or just coffee and a brownie. Moonfish is a solid, economical dining option. A meal for one will range from about Q40-70 ($5-10).
Tul y Sol
I discovered this lakefront French restaurant this year. Found by walking from the main dock and turning left along the first path close to the lake, it's a bit of a splurge, with meals running from Q50 to Q150 ($6-20), ranging from sandwiches to pastas to meat or seafood specialties. A fun treat with an amazing view of the lake and volcanoes. They also offer paragliding!

La Paz
Eco Hotel La Paz is located in Barrio 3 of San Marcos. Follow the signs from the dock to find this lush gem, which features a large palapa with daily yoga classes, a sauna, massage room and lovely gardens. Their vegetarian menu for breakfast and lunch is simple and dependable, in the Q25-40 range ($3-5). Dinner must be ordered in advance. You will be served a plate of beautifully-presented, colorful food that is both healthy and delicious.
Fé
On the main road from the dock, Fé features a long and diverse menu. Offering delish Indian and Thai curries, eclectic pastas, a wide variety of pizzas, and sandwiches and soups. Your bill will total between Q50-100 per person ($6-13) with a drink included. The ambiance is casual chic (although a bit overrun by dogs) and the servers are friendly.
Allala
The most difficult to find restaurant in San Marcos is worth the search. Tucked behind the soccer field, Allala is more commonly known as 'the Japanese restaurant' or 'Seiko's' (She is the delightful owner.) Feast on sushi, teriyaki, chao mein or miso soup in the Q30-80 price range. Browse through the paca (a secondhand clothing shop) while you wait. Sushi parties featuring live music and a Q60 buffet are held on the 15th of each month, .